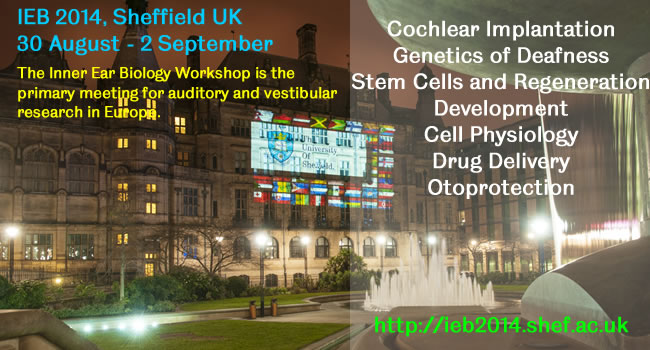 Welcome to Sheffield, the venue for the fifty first-edition of Inner Ear Biology Workshop – to be held August 30th to September 2nd.
The audience includes clinicians and scientists from disciplines related to hearing and balance such as audiologists, otolaryngologists, molecular geneticists, neuroscientists, cell and stem cell biologists and bioengineers, amongst others. It will also attract voluntary organizations supporting deafness and other inner ear conditions.

The IEB 2014 Workshop is of great regional interest and has been endorsed by Marketing Sheffield, part of the Sheffield City Council.
"We are delighted to hear that you are bringing to Sheffield the 51st edition of the reputable Inner Ear Biology Workshop."
"We congratulate you for all the hard work invested in this endeavour and we are delighted to support and endorse the event, by declaring it of regional interest."

Brendan Moffett, Director, Marketing Sheffield
Part of Sheffield City Council